The campsite had not looked special, on a point along a channel of Basswood Lake, a mile south of the Canadian border in the Boundary Waters.  The site we had set our mind upon in the bay was occupied, and another had a difficult climb up from the water which was fine, if one were having lunch, but not so fine if one wanted to go places and come back. Or just get water for dinner. Long climbs carrying water or packs get old. The site we were on had one good tent spot, all we needed, and had views north to Canada and sunrise views over American Point.
The first night a pair of beavers swam by about 5 yards off shore, on their way to the swampy area right off the east side of the site. This would be repeated every night we were there, and one morning we watched as a beaver felled a tree. Pretty neat. On the second night, we saw an aurora, and while it wasn't as bright the green curtains I saw hanging in the Canadian sky a half-century earlier, any aurora is worth seeing.
The third day, we saw an otter as we travelled out of the bay on a day trip. He was having a great time going in and out of the water. That night, we heard wolves howling, too far away to try to find—but we wouldn't have seen them anyway.
The final day, we took a trip to the Canadian border and Basswood Falls, passing a campsite where we had stayed in 2004, a day after a bear on Crooked Lake got our food during a howling storm. Eating our fifth consecutive meal of mash potatoes, I had seen something that looked like a windmill churning water moving across the lake from Canada. I had no idea what it was for about five minutes, then realized it was a moose swimming with a large bush stuck in his antlers. Nice memory.
After we returned from the border, I sat in camp and said to myself the only thing we hadn't seen on this particular trip was a moose. I had no complaints; it was a great trip.  An hour later, I heard a noise in the marsh behind me, turned and there he was, a bull moose, fifty yards away, chewing on a bush. We stayed quiet, and he didn't leave for a good ten minutes, then disappeared through the back of our campsite.
What a great world we live in!
*********************
Eight years ago in late January, the 28th according to the picture I have of it, back when I lived in Arizona, there was a brief rain storm, and near noon, the Sun came out.  Recent rain and sunshine mean rainbows, and I love them, both the colors and why they occur, which makes me doubly lucky.  I have seen a rainbow after sunset, when the zenith is still getting sunlight, and the rainbow spans the entire N-S plane of the celestial sphere over us. Astronomer Steven O'Meara has seen them up to I believe 14 minutes after sunset, but he lived in Hawai'l and had a lot of practice. My record is still seeing one 7 minutes after sunset.
The Sun has to be fewer than 42 degrees elevation to see a rainbow. That's why we usually see them early morning or late afternoon. The sun is usually too high at noon, unless it is winter.  I did the math in my head: In late January, the Sun is at declination (sky latitude) minus 18, or 18 deg. S. The North Star is at 32 elevation in Tucson, so overhead in Tucson is 58 deg N. On the solstice, the Sun was 23.5 deg south latitude, and 23.5 from 58 was 34.5 degrees above the horizon at local noon, which in January is about 12:35-12:40 pm.  Add in the difference of 18 deg S from 23.5 deg S, and the sun would be about 40 deg high at noon. This was going to be close, but I thought it ought to be possible to see it.  I went out to the driveway, looked north towards the top of Catalina mountains but saw no rainbow. Hmmm. Then I thought, silly me, it's on the ground. I looked down right to where the base of the mountains met the desert.
There it was.
A beautiful rainbow was flowing along the base of the Catalina mountains. That was SO COOL to see. I found something I would have missed otherwise by knowing a simple fact about rainbows then when the time came remembering that I just might see a rainbow at noon. I did, on the ground against the mountains.
Is this an interesting world, or what?
******************
In 2007, I hiked the South Rim Trail in Big Bend National Park, out to where the cliffs drop into the Chihuahua Desert. It was humid, late June, and Big Bend was part of my national park odyssey. It was an 11 hour drive to get there, during which I saw my first Scissor-tailed flycatcher. You can't miss them. I left the Chisos Basin early, nobody was out there, and when I reached the cliffs, I could see the desert a couple of thousand feet below me. A south wind was blowing into my face, which was pleasant, after all the climbing.
Up ahead I saw what I first thought was smoke, then realized it was water condensing into a cloud. It's the same phenomenon I saw 20 miles from Victoria Falls from a train back in 2001 when I went to the Zambia eclipse. I couldn't figure out what it was until I realized the sheer amount of water formed a cloud.
What I saw at Big Bend that day was a demonstration of orographic lift, the phenomenon that explains why mountains get so much more precipitation than valleys. The water vapor hits the mountains, is forced upward, cools, and condenses when it cools to the dew point. That day in Big Bend, the south wind was ferrying humid air that struck the cliffs, forced upwards, and condensed right in front of me. It was incredible.
It truly is a remarkable world.
******************
I read last week about the shock wave that went around the world for 2 1/2 days after the Tonga eruption. What I didn't know was that the wave was measurable, and we have proof of the compression and the expansion of the atmosphere when the wave passed.
The graphics in the New York Times were excellent, and when I read about the barometric pressure changes, a couple of mb or a few hundredths of an inch, I decided to look on my own.  Not every place had a clear brief rise in late morning of 15 January, or a brief clear drop that night, and some places had active weather occurring that would have overwhelmed any small signal from the shock wave. But I was enthralled by barometric pressures in places \that showed a clear brief rise followed by a drop in the late morning and a clear brief drop, followed by a rise around midnight the next day.  This absolutely fascinated me, enough so that I showed my wife, who doesn't share my rabid enthusiasm for such trivia. She liked it, too. How could you not? 
Moose, wolves, beaver, otter, and an aurora, same trip.  A rainbow practically on the ground at noon in the desert, because that is where it has to be. Orographic lift happening right in front of me.  And barometric pressure showing a change from a shock wave from a south Pacific volcanic eruption many hours earlier.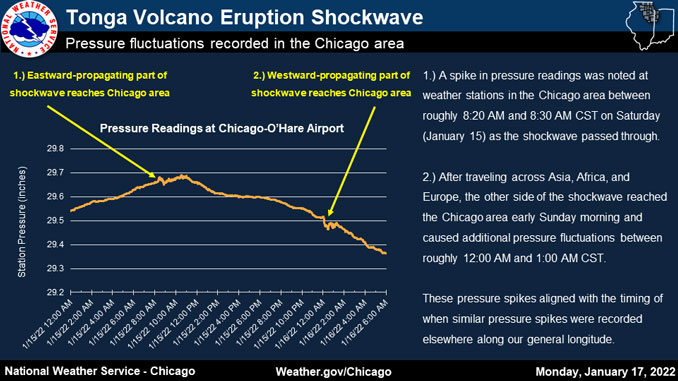 Minneapolis
| | | | | | | | | | |
| --- | --- | --- | --- | --- | --- | --- | --- | --- | --- |
| 8:53 AM | 4 °F | -2 °F | 76 % | E | 6 mph | 0 mph | 29.64 in | 0.0 in | Fair |
| 9:53 AM | 5 °F | -1 °F | 76 % | VAR | 3 mph | 0 mph | 29.65 in | 0.0 in | Fair |
| 10:53 AM | 7 °F | 2 °F | 80 % | VAR | 3 mph | 0 mph | 29.64 in | 0.0 in | Fair |
Eugene
| | | | | | | | | | |
| --- | --- | --- | --- | --- | --- | --- | --- | --- | --- |
| 7:54 AM | 42 °F | 39 °F | 89 % | ESE | 6 mph | 0 mph | 29.95 in | 0.0 in | Cloudy |
| 8:45 AM | 42 °F | 40 °F | 92 % | CALM | 0 mph | 0 mph | 29.95 in | 0.0 in | Cloudy |
| 8:54 AM | 42 °F | 40 °F | 92 % | CALM | 0 mph | 0 mph | 29.96 in | 0.0 in | Cloudy |
| 9:14 AM | 41 °F | 39 °F | 93 % | ENE | 5 mph | 0 mph | 29.96 in | 0.0 in | Mostly Cloudy |
| 9:54 AM | 41 °F | 39 °F | 93 % | SE | 6 mph | 0 mph | 29.95 in | 0.0 in | Mostly Cloudy |
| 10:25 AM | 40 °F | 38 °F | 93 % | SE | 5 mph | 0 mph | 29.95 in | 0.0 in | Mostly Cloudy |